How to Choose Between Oil Painting Lessons on DVD or Online
Disclosure: I do not accept advertising and the opinions expressed here are my own. I am not paid to write reviews or to give opinions. I will be compensated if you purchase a product described here through one of the links, but I will in no way allow that to impact my reviews.
For someone who has painted before – maybe you have taken classes somewhere or used a painting lessons book – the online tutorials are fine. But, in my opinion they can be limited to just learning to paint one scene  or learning only a particular technique.
For those of you who are beginners who want to learn to paint, online tutorials can be a poor choice because they may not teach the basics of how to use the materials, color theory and how to mix paints, good composition, shades, texture and lighting and so many other of the basics needed to paint a good picture. And, online tutorials are not easy to view just anywhere in your home – you have to be on a computer to watch them.
So, I am talking to those who either never got the basics or want to start to explore how to paint with oils and learn in a way that gives them a better foundation to be able to be more successful with their finished paintings.  Once you learn some of the basics, they can be transferred to use when painting in other mediums, as well, such as acrylics or watercolors.
What I am proposing is that you use a course on DVDs so that you can put a television and play your DVDs near where you paint (or move your painting supplies near a TV). For any new painting student, I highly recommend buying a course such as Learn and Master Painting. The depth of the course will help you be a more informed artist. And as long as you are going to spend your precious time (your time is so valuable) and your hard-earned money on paint brushes, paints, canvas, a pallette, a taboret and other painting supplies, you should really consider doing it correctly from the start.
Many new students (in any creative field) start out with such excitement but when everything is new and they are having to adjust to all the new information, they get frustrated and just give up. Please don't do that! You have to be persistent to be able to do anything well. And after the initial "information overload" when you get some time in with practicing your new art, you will be able to enjoy it and feel that same excitement about it that you had when you started on this new journey.
I believe painting, or any creative art,  is like a journey with hills to climb, valleys to endure and get through and mountain tops to enjoy. Try to enjoy all the parts of learning to paint – all are necessary – and just like "life" all of these things are what makes the experience a full and satisfying one.
To get the full experience with painting lessons, having one great instructor makes all the difference, too. The personal input from someone who knows what kind of things you need to learn and what things you may struggle with is what can "make or break" your ability to achieve your goal of being a painter.
This is one of the main reasons I am so thoroughly impressed with the Learn and Master Painting course. The instructor, Gayle Leveé,  is a dedicated art professional with years of experience as a painter and a teacher.
So, for those of you who don't need the basics and have the time to search for tutorials, again, those can be a very good way to extend what you know about painting. But for those who want a more complete art and painting course, you won't be disappointed with Learn and Master Painting.
The Learn & Master Painting Course includes: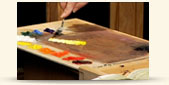 Video demonstrations on 20 DVDs (which lasts a long time) take you through how to oil paint in a  step-by-step fashion. This makes it easy to repeat what you are watching such as mixing paints and selecting brushes.
The Learn & Master Painting lesson book is a wonderful resource or printed material, which is rarely included with DVD lessons. All the projects that will be taught in the course are covered and it includes a glossary in case you need to look up a term (no rewinding the video for that will be needed).
Music on three CDs are a bonus to allow you to create an atmosphere of inspiration while you paint. The CDs have a variety of music genres that you can choose from: modern music, classical or orchestral. Use them anywhere and make your own playlist if you'd like.
Your instructor, Gayle Leveé, a professional painter, is a talented communicator and teacher - can learn and even laugh together with her.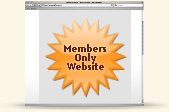 Become a part of an oil painting online community – a benefit for members who have bought the course. Share successes, ask questions or just gain the sense that you are not alone with an online forum full of fellow students.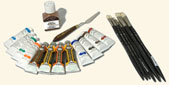 Buy this alone or at a discount when you purchase the DVD course. This is so helpful when you are just starting out – all your supplies: paints, brushes, palette knife, and medium, will be there when you need them.
Buy Now or Learn More about Learn and Master Painting!
Use the link above to learn about what the course costs, or read my explanation about the price – Pricing Overview.